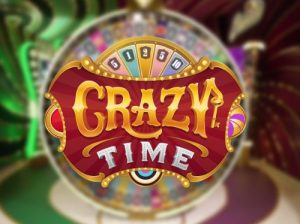 Crazy Time is one of the latest Game Shows from Evolution, the leading game provider within Live casino right now. Lately, they've been going crazy with the Game Show releases, and the players seem to love it. Crazy Time reminds us a lot about Dream Catcher, but with some added crazy features. Instead of just having multipliers and numbers on the wheel, it now has some added bonus features that can be triggered, and win you thousands of times the stake!
Crazy Time has really taken the Game Shows to the next level, and you can enjoy it with Bitcoin, and various other Cryptocurrencies easily. Tons of great Crypto Casinos have been popping up lately, and they all offer Bitcoin as one of their payment methods. These casinos have Evolution, which opens up the ability to enjoy Crazy Time and many of their other fantastic titles. In this article, we'll be going through how you can enjoy Crazy Time with Bitcoin, how Crazy Time works, and other fun stuff. Let's get right into it, shall we?
What is Crazy Time?
Crazy Time is a fast-paced and crazy Live Casino Game. Although, it's not a game you commonly associate with casino, even less casino online. This is actually a Game Show of sorts, where you bet on a gigantic wheel with different numbers and features on them. The game is very similar to some of Evolutions' previous Game Shows, but this time with some added features which really spices things up an extra level.
If you've ever seen the game show "The Price is Right" you know just what we're talking about, and that's similar to what you can expect when going into Crazy Time. Every round is commentated by a live host, which will keep the players engaged. It's also the host that spins the gigantic wheel every round.
Some of the Features this game contains are Cash Hunt Bonus Game, Coin Flip Bonus Game, Pachinko Bonus Game as well as Crazy Time Bonus Game. All these exist on the wheel along with the normal multipliers, and you can bet on them just as you can bet on the different numbers. Some of these features have the potential of paying out a crazy amount of money if you're lucky!
Features of Crazy Time
Something new and exciting that Crazy Time provides, and that previous Game Shows have been lacking, are features. The wheel contains 4 different bonus features which can be triggered if the bonus stops on them. The features have different bonus games tied to them, with some great potential for big winnings if you're lucky. Let's go through them one by one, and see what the features do!
Cash Hunt Bonus Game – This is a bonus game where there are hundreds of different multipliers hidden behind different symbols. You can pick one of the symbols, or let the game pick for you. After a certain period of time, the symbols will flip, showing a multiplier that can be upwards of 200x without any previous multipliers affecting it.
Coin Flip Bonus Game – This is the most basic of them all. The game rolls for two separate Multipliers for Blue and Red, which symbolizes the different sides of the coin. Once the multipliers have been set, the coin is flipped and whichever side you land on, you win the multiplier listed.
Pachinko – This is a game built out of pins sticking out of the wall. At the bottom, there are tons of holes, each with a unique multiplier set on them. The game starts out with the Multipliers appearing, and then a ball is dropped at the top. Whichever hole it ends up in, is the multiplier you win from the bonus game.
Crazy Time – This is the best bonus of them all, with the most potential. In this bonus feature, we're sent to a gigantic wheel instead. On this wheel, there are three different colors you can pick before the wheel is spun. The wheel is filled with high multipliers, as well as Double and Triple. If you hit those, you double or triple your winnings and get to spin again. Your winnings here can get multiplied all the way up to 20 000 times if you're lucky. It really is a Crazy Time.
Play Crazy Time with Bitcoin
Playing Crazy Time with Bitcoins and other Crypto Currencies has gotten more and more accessible in 2021. This is due to the number of Crypto Casinos opening up. Many people think that Crypto might be part of the future, which is why a lot of people are currently buying these coins at the moment. This has also spiked the popularity of gambling with crypto such as Bitcoins. You can find the best Bitcoin casinos in our lists.
To play Crazy Time with Bitcoins, you simply need to find a casino with Evolution that accepts this payment method, which isn't all that rare anymore. We have some great choices in our lists here at the site, but if you want to go hunt for other casinos you can do so fairly easily. Just make sure you do your research before you start playing, as we can't guarantee these casinos will be safe to play at. If you choose the casinos from our lists, however, you can feel completely safe and secure.
Bitcoins aren't the only Crypto that has started to get accepted on the casino market. Other popular Crypto Currencies such as Ethereum (ETH) Litecoins (LTH) and Dogecoins (DOGE) are also incredibly popular. If you play at Crypto casinos specifically, you'll find tons more being accepted, and new ones are added daily at some casinos.
Deposit with Crypto Currency on Crypto Casinos
If you want to start playing Crazy Time with Bitcoins, you'll first have to get a wallet. These are easily acquired online, and most of them are completely free. Once you got a wallet, you need to fill it up with some Bitcoins, or another Crypto of your choice. This can easily be done from various different exchangers online.
Once you've gotten your Bitcoins, you're good to go. You now simply have to find a casino which we talked about in the previous segment. It's incredibly easy these days, and if you don't wanna spend unnecessary time searching for yourself, you can always use our lists to get started within minutes.
When you've found a casino with Evolution and Bitcoin as a payment option, it's time to make a deposit. This is very simple, you just send Bitcoins to the address you're given on the casino. After a few minutes, the money should reflect in your balance, and you can start playing. Crazy Time is an amazing and incredibly popular title. Evolution also has tons of other great options to choose between, such as the Lightning series with Lightning Roulette and Lightning Dice, or just other Game Shows like Dream Catcher and Deal or no Deal!