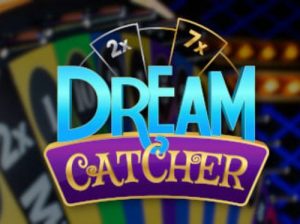 Dream Catcher is one of the many types of Game Shows that have completely exploded within the casino industry lately. The games consistently find their way to the top of the Popular Live Casino Titles on every single casino, which means that players really enjoy these types of games. Dream Catcher is actually very simple to get started with, and after just spectating for a couple of rounds you'll quickly get the hang of it. This is probably one of the biggest appeals of the game, and most of the Game Shows are similar in that sense.
Crypto Casinos are another trend that has seen an upward trend lately. More and more players are buying into various Crypto Currencies, and want to use them to gamble online. Fortunately, you can actually play Dream Catcher and many of the other amazing Game Shows available with your Crypto. All you need to do is find a Crypto Casino that offers Evolution as one of their game providers. In this article, we'll go through how Dream Catcher works, how to play it with Crypto, and many other things. Let's get into it!
What is Dream Catcher?
Dream Catcher was the first Game Show title that came from Evolution, and what would be considered the game that revolutionized the Game Shows. The game is far from a usual virtual table game and instead consists of a gigantic money wheel with a bunch of numbers on them which reflects the multipliers, as well as some bonus symbols. The game rounds are commentated by a host, which will constantly keep the players engaged in the game.
Just like any Live Game from Evolution, there is no limit for how many players can participate at once, which means that you can enjoy the game with hundreds of other players at the same time. Players on mobile devices as well as computers can unite and gamble together on the same platform, and bet on the number they think that the wheel will stop on.
On Dream Catcher, you can place as many bets as you want, on the various bet options. There's also an Auto Play option, which allows you to re-bet the same amount for a set amount of rounds, so you don't have to remake your bets every single time!
How Does Dream Catcher work?
The game rules are actually very simple, as we said earlier. This is one of the primary attractions of this Live Casino game, you don't really need any in-depth knowledge of the game to be able to play. The wheel is split up into 54 different fields of various colors and numbers. 2 of these are multipliers that multiply your winnings for the coming spin, with the number that is listed.
The numbers you can bet on in this game are 1, 2, 5, 10, 20, and 40. It's very easy to keep track of the different odds in this game, as they match the number. The higher the number, the rarer it occurs on the wheel. If you for example bet on 5, it pays out 5:1, 10 pays out 10:1, and so on.
Every round begins with the players being able to place their bets. Once the bets are closed, the host will spin the wheel, and commentate the game round as it progresses. If it stops on a number, it will pay out the winners. If it stops on the multipliers, it will multiply the numbers with that amount, and then the host will spin the wheel once again. This is where the real potential lies, as you can win hundreds of times your stake if you're lucky.
Play Dream Catcher with Crypto
Playing Dream Catcher with Crypto is surprisingly easy today. More and more casinos are starting to accept various cryptocurrencies as payment methods in their casinos, and Crypto Casinos are opening up every single day. This allows you to play all of Evolutions Game Show titles, including Dream Catcher, with your crypto. Finding a Crypto Casino is pretty easy, just a google search and you'll have tons of them. Just make sure that you do thorough research before you start playing on a new crypto casino, however.
We recommend using the Crypto Casinos from our lists here on the website. These casinos are personally tested by all of us with multiple identities, to make sure that the casinos hold up to our standards. These casinos are completely safe to play on, so you don't need to do any research yourself. You can just click, and start playing within seconds!
Most of the Crypto Casinos we list here have Evolution as one of their providers. Evolution has released tons of Game Shows lately. Dream Catcher was just the first, since then they've also released titles such as Deal or no Deal, Monopoly Live, Crazy Time, and more. Other providers such as Pragmatic Play have also started releasing their own Game Shows, and it's all available on Crypto Casinos, with Crypto!
Conclusion
Dream Catcher is amazing in many ways. It was the first of its kind, and completely revolutionized the Live Casino sections on many casinos. Before, it was mostly just various versions of the classic table games we all know. Blackjack, Roulette, Video Poker, Baccarat, and so on. The Game Shows have brought in some new and fresh air, and it's all thanks to Dream Catcher which completely blew up when it was released. This showed that players want something new and exciting, which sprouted some new innovations from providers. We can't wait to see what Crypto Casinos have in store for us at the end of 2022, and 2023.